Surgical Treatment
Lumbar Discectomy
Operation
also known as microdiscectomy, lumbar fenestration and sequestrectomy.
Indication
Sciatica, lateral recess stenosis, lateral disc prolapse and spinal stenosis
Operation position
Prone (lying on front)
Details of operation
An incision of 3-4 cm is made in the back to enable dissection to the spine by elevating the muscle and ligaments from the bone on the side of the pain. A window (fenestration) is made by removing small amounts of bone and ligament to expose the nerve sac (Dura). The Dura is moved to the side to allow a view of the disc fragment. The fragments are removed to allow the nerve to be freed.
Spinal Decompression
Operation
Also known as lumbar spinal decompression or partial laminectomy
Indication
Spinal Stenosis, neurogenic claudication, lateral recess stenosis, central canal stenosis, foraminal stenosis, facet joint cyst.
Operation position
Prone (lying on the front)
Details of operation
A midline incision is made over the vertebra to be decompressed. The spine is approached by dissecting muscles and ligaments from the posterior bony arch. Using a high speed burr, osteotomes, spinal nibblers and rongeurs bony and ligamentous material is removed to expose the dura (fine sac containing nerves and spinal fluid) More ligament and bone is carefully removed to allow expansion of the nerve canal and better flow of blood to the nerves.

Vertebroplasty / Kyphoplasty
Operation
percutaneous vertebral application of cement
Indication
painful osteoporotic vertebral compression fracture, progressive deformity following osteoporotic vertebral compression fracture
Operation position
prone (on front)
Details of operation
Using X-ray image guidance the vertebral bodies are entered using a special canula (hollow large bore needle). In kyphoplasty a small balloon is passed down the tube and inflated to make a cavity. Special cement is then inserted down the canula to fill the cavity or vertebral body.

Spinal Fusion Procedures
Operation
Also known as Lumbar spinal stabilization and lumbar inter-transverse fusion (often combined with lumbar spinal fusion and decompression)
Transverse / Posterior Lumbar Interbody Fusion (TLIF) / ( PLIF)
Indication
Low back pain, spinal instability, leg pain with spinal instability and spinal fractures.
Operation position
Prone (lying on front)
Details of operation
An incision is made 8 – 10cm long per level to be fused. The muscle and ligaments are dissected to allow the exposure of the bone. Under image intensification (mobile x-ray) the tracks for the spinal screws are prepared. The spinal pedicle screws are inserted (one each side per level). A rod is pre-shaped and attached to the screws by special clamps. The muscle and ligaments are dissected to allow the exposure of the bone. For TLIF/ PLIF a metal cage (Tantalum) for the TLIF procedure or two smaller cages are inserted into the disc space, to promote fusion across the disc space. Bone graft from the patient and occasionally bone substitutes are applied to the prepared bony surfaces.

Disc Replacement
Operation
Lumbar disc arthroplasty ALIF anterior lumbar interbody fusion
Indication
Low back pain and degenerative disc disease to L4/5 and or L5/S1
Operation position
Supine (on back)
Details of operation
Incision is made below and to the left of the umbilicus (belly button). Approach is made to the spine by retracting (holding out of the way) the abdominal contents. Special self retaining spinal retractors are used to gain a safe corridor down which to access the disc. The disc material is removed with specialized instruments. The total disc replacement procedure involves insertion of the replacement disc with special instruments and under x-ray guidance. The disc is inserted together with a specially designed spacer to allow movement at the vertebral level.

Interspinous Process Spacers
Operation
Coflex is the name of the interspinous process spacers used by Mrs Morgan.
Patients who suffer from spinal stenosis are ideal candidates for interspinous devices, result of this prosthesis are good. They are a dynamic stabilization implant designed to create spinal stability while working to return the spine to a state that more closely resembles normal physiology. It provides a non-fusion procedure restabilising the spine towards its natural biomechanical state.
Indication
Leg pain due to spinal stenosis, lateral recess stenosis, foraminal stenosis, for augmentation of spinal decompression and facet joint back pain.
Operation position
Prone (on front) or lateral
Details of operation
Under X-ray guidance the level is marked. For some patients a midline 4cm incision is made, others a 2cm flank incision is needed. The gap between the spinous processes is enlarged and the correct size spacer is delicately inserted.

Posterior Cervical Laminectomy / Laminoplasty
Operation
Cervical Laminectomy/Laminoplasty, +/- foraminotomy
Indication
Cervical myelopathy (weakness and balance disturbance) due to spinal cord compression, multilevel compressive radiculopathy
Operation position
Patient lies prone (face down) on a special spinal table and may wear a mayfield head retractor.
Details of operation
A midline incision is made at the back of the neck. Dissection is achieved to expose the bones of the posterior arch of cervical vertebrae to be decompressed. For the laminectomy the lamina and spinous processes are removed, for the laminoplasty, the lamina are elevated away from the spinal canal. Fusion is performed using lateral mass screws and rods if there is potential cervical instability.

Anterior Cervical Interbody Fusion and Cervical Disc Replacement
Operation
Anterior Cervical Interbody Fusion. Cervical Disc Replacement
Indication
Cervical radiculopathy, arm pain, neck pain
Operation Position
Patient lies supine with head in c-ring
Details of Operation
Anterior horizontal skin crease incision is made. Careful dissection down to cervical vertebra, disc place is cleared and either fused with a cage and plate or a disc replacement is used.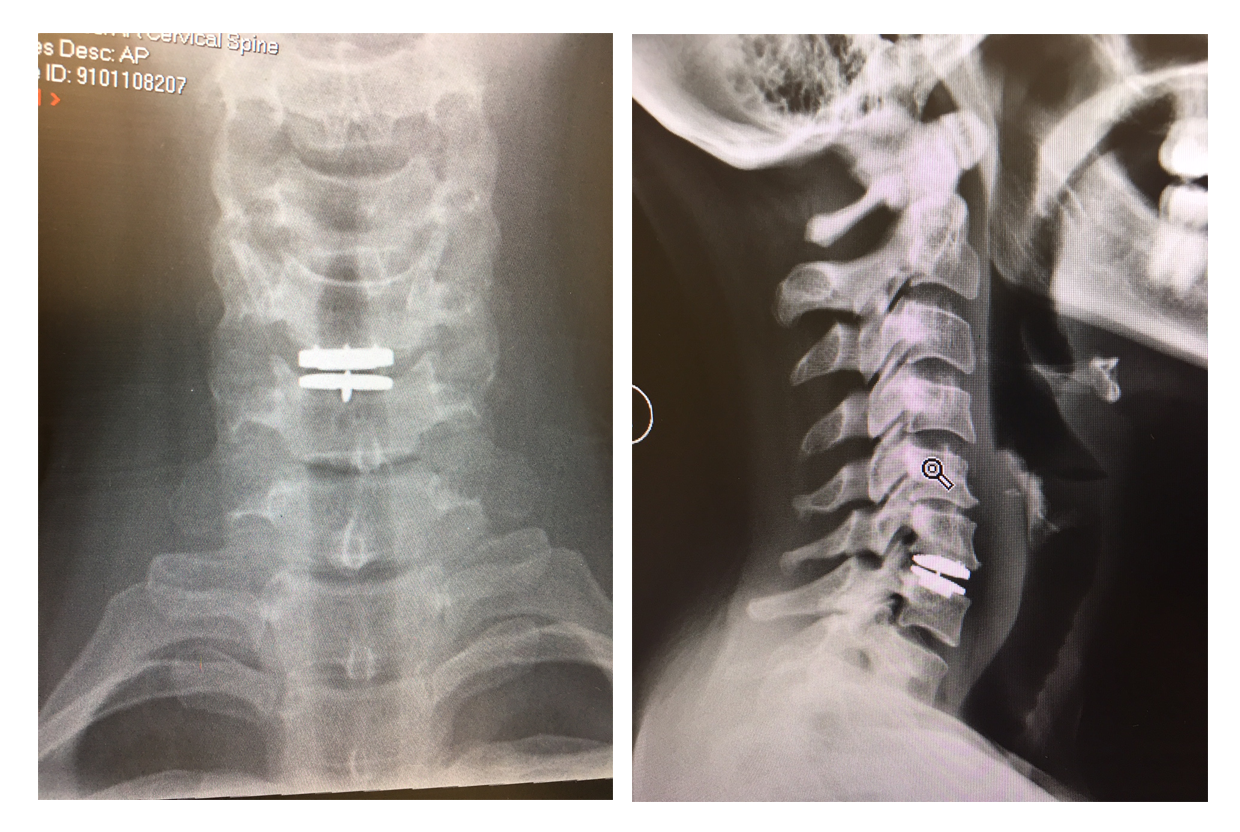 Sacroiliac Joint Fusion
Operation
Sacroiliac Joint Fusion
Indication
The sacroiliac joint (SIJ) is a major weight-bearing joint interposed between the spine and the hip joint. Its vulnerability to injury and disease related processes can lead to painful irreversible change.
Details of Operation
A solution is surgical arthrodesis with DIANA (Distraction Interference Arthrodesis with Neurovascular Anticipation). This device provides a solid fusion with distraction -separating the painful bony surfaces from each other, realigning the pelvic girdle to a position close to normal.
For all operations the following will be needed but vary appropriately:
Pre-assessment
Required
Special preparation for surgery
Imaging of area, MRI +/- CT scan
Stop all blood thinning medications including aspirin, warfarin, clopidogrel
Stop HRT and oral contraceptives. Stop some herbal medicines
You will be advised when to stop these medications.
Admission to hospital
On day of surgery, or night before
General anesthetic
Yes
Length of surgery
1-5hrs
Urinary catheter required
not for simple discectomies or vertebroplasty but required for most other spinal surgery
Post-operative drain required
yes, most of the time
Post-operative antibiotics
Yes
Post-operative iv fluids (drip)
Yes
DVT prophylaxis
Yes, foot pumps
Mobilization after surgery
Next day
Length of stay in hospital
1-4 days
Post hospital recovery
2 weeks of gentle rest followed by 2 weeks gradually increasing to normal daily activities and a further 2 weeks of increasing to full activity level. Leave strenuous activities until after 6-12weeks.
Sutures removed
Dissolvable
Review appointment
6 weeks, long term for fusion surgery, disc replacement surgery
Physiotherapy
sometimes
Return to driving
3-6 weeks
Return to work
6-12 weeks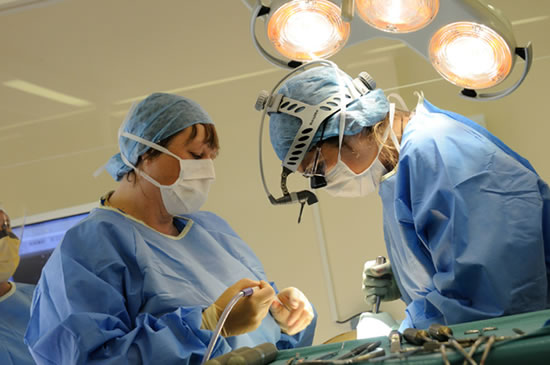 SI Joint Fusion with the iFuse Implant System
The iFuse Implant System is intended for sacroiliac fusion for conditions including sacroiliac joint dysfunction that is a direct result of sacroiliac joint disruption and degenerative sacroiliitis. This includes conditions whose symptoms began during pregnancy or in the peripartum period and have persisted postpartum for more than 6 months. There are potential risks associated with the iFuse Implant System. It may not be appropriate for all patients and all patients may not benefit. For information about the risks, visit: www.si-bone.com/risks
Sacroiliac (SI) joint fusion is a surgical procedure performed in an operating room, with either general or spinal anesthesia. You will be lying down during the surgery while your surgeon uses a specially designed system to guide the instruments that prepare the bone and insert the implants. Both the surgical technique and the iFuse Implant System are designed to offer the maximum protection to your surrounding tissues.
The entire procedure is performed through a small incision (approximately 2-3cm long), along the side of your buttock. During the procedure, fluoroscopy provides your surgeon with live imaging during the procedure to facilitate proper placement of the implants. Fluoroscopy is an imaging technique commonly used by physicians to obtain real-time moving images of internal structures using X-rays. Normally three implants will be used, depending on your size.
The procedure takes approximately an hour. Your surgeon will decide when you can return home based on your postsurgical status.
Following the Surgery
At discharge, your surgeon will arrange follow-up visits to assess your progress, health status (including the status of your incision) and may take additional images of your surgical site. Your doctor will advise you when it is appropriate to resume your daily activities and weight bearing. Return to work will depend on your postsurgical progress and occupation.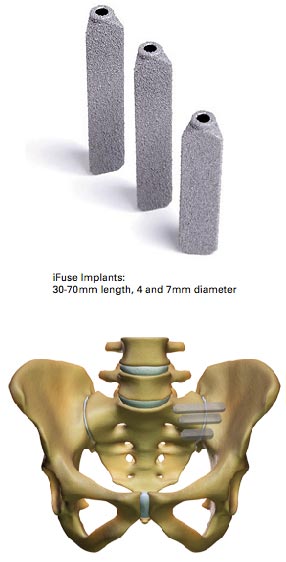 Minimally invasive surgical (MIS) approach is less invasive than traditional SI joint surgery
Triangular implant profile minimizes rotation and an interference fit minimizes micromotion
Porous surface promotes bony ongrowth and ingrowth*
Designed specifically to stabilize and fuse the heavily loaded SI joint
Rigid titanium construction and implant geometry provide immediate stabilization
More than thirty published, peer-reviewed articles demonstrate safety and effectiveness of the iFuse procedure.